Spearfish Slammer Pickleball Tournament
Thanks to all participants and volunteers for making the tournament a success! Here are the medalists:
Round Robin D1
Steve Cable
(tie) Craig Hutton & Tyler Spilde
Round Robin D2
Paul Dixon
Arlie Johnson
Gary Miller
Round Robin D3
Karly Macon
Bev McHugh
Jim Cooney
Round Robin D4
Jane Jakubec
Tony Taravella
John Schmidt
Round Robin D5
Joel Schmidt
(tie) Darlene Black & Marilyn Stimac
Men's Singles
Tyler Spilde
Jay Merrigan
Justin Griffith
Women's Singles
Natalie Hardesty
Darla Miller
Anne Marie Myers
Mixed Doubles D1
Darla Miller / Lucas Clegg
Steve Cable / Anne Marie Myers
Paul Dixon / Renee Wollenman
Mixed Doubles D2
Gary Miller / Cindy Pfingston
Stuart Dahlin / Sarah Kelly
Cindy Ullman / Troy Robbins
Mixed Doubles D3
Bev McHugh / Brian McHugh
Dan O'Neill / Karrie O'Neill
Jim Cooney / Sarah Reichert
Mixed Doubles D4
Dave Carr / Judy Wangen
Larry Stimac / Marilyn Stimac
Tony Taravella / Karin Taravella
Women's Doubles D1
Darla Miller / Anne Marie Myers
Natalie Hardesty / Sarah Kelly
Char Hutton / Renee Wollenman
Women's Doubles D2
Jane Berry / Phyllis Hart
Judy Wangen / Judy Monner
Christina Ingalls / Kim Eymer
Women's Double D3
Leah Clegg / Darlene Black
Janie Humbracht / Janice Vaplon
Doreen Cooper / Terree Matson
Men's Doubles D1
Craig Hutton / Paul Dixon
Tyler Spilde / Troy Robbins
(tie) Steve Cable / Mike Thelen & Rich Loose / Justin Griffith
Men's Doubles D2
Jim Cooney / Mike Streff
Jay Merrigan / Tim Ingalls
Mark Brockley / Phil Koehler
Sept. 14-15, 2019
Cost: Early bird registration is $30 for the first event and $10 for each additional event. After August 18, those amounts become $40 and $15.
Register: https://www.signupgenius.com/go/70a0849ada82aa1fb6-spearfish1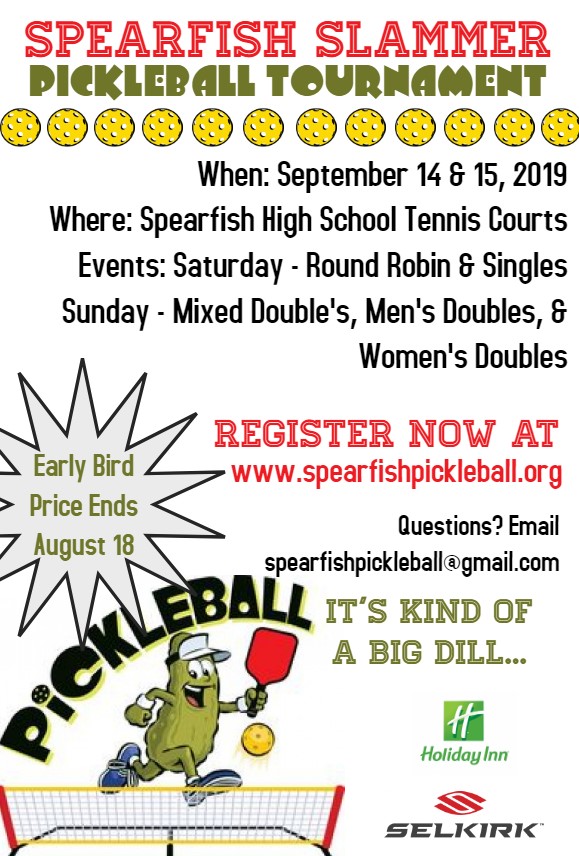 Tournament Info
The tournament will be held at the Spearfish High School tennis courts at 1725 N Main St. Once at the high school, drive around to the north side of the high school on Hillsview Road. The tennis courts are visible from the road with parking right behind them.
A block of rooms is reserved at the Holiday Inn in Spearfish at 305 N 27th St. Make sure to mention you are playing in the Spearfish Slammer, as you will receive a discounted rate on your room.

Sponsors
A huge thank you to all of our sponsors for the tournament. Without them we couldn't put on this tournament that brings so many pickleballers together! Please do support them the way they support us!
Pickleball Central
Pickleball Works
Selkirk
City Brew
Visit Spearfish
Walmart
Holiday Inn
Lucky's 13
TUF Storm Restoration
Sam's Club
The Ice Man
Spearfish Frozen Pickle Tournament
Thank you to all of our participants! We had an awesome time and look forward to seeing you in our outdoor tournament coming in September.
Division 1 Winners:
1. Alvin Train
2. Steve Cable
3. Justin Griffith
Division 2 Winners:
1. Lucas Clegg
2. Bill Coburn
3. Cindy Pfingston
Division 3 Winners:
1. Mason Krier
2. Dean Lundquist
3. Christina Ingalls
March 30, 2019
Cost: $20
Location: Spearfish High School
Register: SignUpGenius
Round robin with 16 players per division.  No partner needed. Play with and against each player in your division (15 games).  Divisions are based on skill level.  Limited to the first 64 entries (4 divisions). It's first come, first serve, and if a division is not filled we'll take the first 16, 32, or 48. Entries will be refunded if you don't get placed in a division. Sign up early!  (Note: if 15 games is too many for you and you'd still like to play, we'll try to pair you with someone of equal ability and have you split games. We cannot make promises that we'll find you a partner, but if you're interested please email.)